Junk Removal, Junk Hauling and Cleanout Service Glendale Ca - A Junk Free Planet

Glendale is a city in Los Angeles County, California. Downtown, the Museum of Neon Art showcases light-based, kinetic and electric art, plus vintage neon signs. Brand Park has trails, the 19th-century Doctor's House Museum and Gazebo. The Verdugo Mountains offer equestrian routes and hilltop lookouts. Northeast, trails run through rugged Deukmejian Wilderness Park in the foothills of the San Gabriel Mountains.
Since 2011, your local junk removal service, "A Junk Free Planet", has been relieving Glendale California of its Junk.
As the third largest city in Los Angeles County, Glendale California has more than its share of junk to get rid of.  Just remember, we are very close to you, and can immediately take that junk out of your sight the day you need it removed.
Just give us a call!
Go Local! Support Your Local Junk Hauling and Junk Removal Business!
Call 818-625-3977 to Book Your Appointment Today!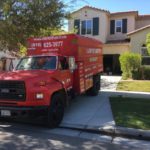 ____________________________________________________________________________________________________________________